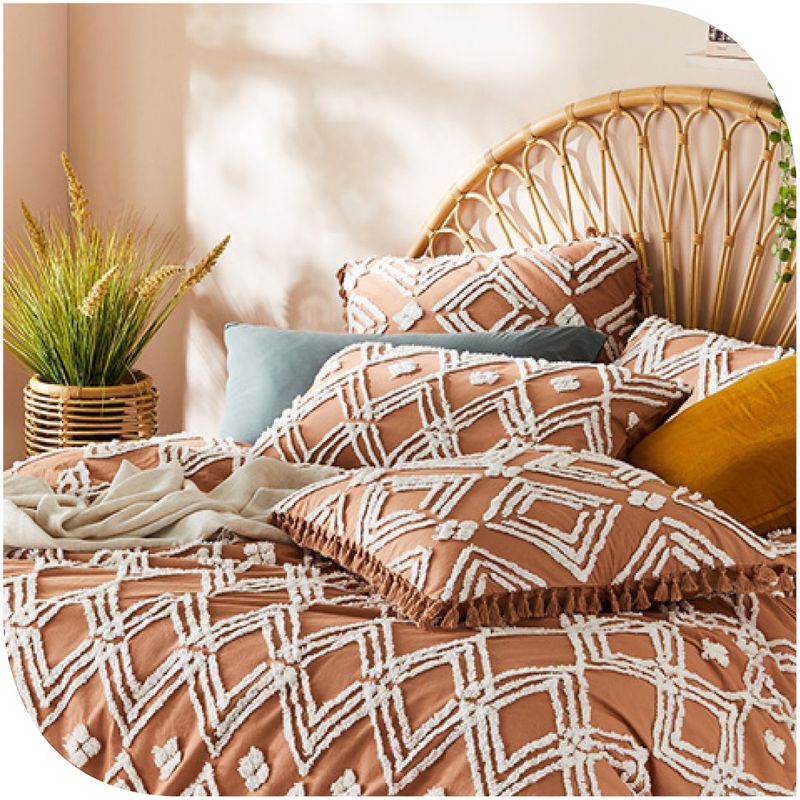 Spring into the new season with Adairs! One of our incredible 'Hello Spring, Goodbye Boring!' competition prizes, is a renovation voucher pack. This amazing pack also includes a $350 Adairs voucher.
The warmer weather is teetering around the corner and we are so excited to see what is in store for the world of interior styling. Delve into the latest season trends from Adairs, and begin dreaming of what you would spend it on!
Patterns & Textures
Introduce a variety of subtle and bold patterns and textures throughout your home this Spring. Bring patterns into play through your quilt covers and cushions. Find ways to let subtle become more obvious and let colour flow through your life. Raised stitching make for a fun change to typically plain patterns. We go back to basics this Spring, finding new ways to celebrate simplistic ideas. Adairs have shown that mosaic patterns, crochet detailing, and fringing combined with neutral colours create shades of texture and depth in your home. Find ways to reinvent the ordinary and make this look your own.
Be Inspired by Nature
Current trends feature many hints of the natural world. The Adairs top colour pick for this season is terracotta, a warm colour steeped in vibrancy. This bold hue captures a room without becoming overbearing. With combinations of natural materials, warmer earthy tones, and detailed décor, creating relaxed looks to be envied by all other seasons.
"Kerela Chenille Bedlinen in terracotta features a beautifully detailed white tufting design and looks stylishly versatile in any bedroom, no matter your existing interior." – Adairs.
Introduce Linen
Linen seems to be everywhere at the moment, and for obvious reason. The incredible look and feel of the product adds unprecedented depth and style to any room. This classic understated look oozes class muddled with a delicate relaxation. This could not be truer of the Home Republic Vintage Washed Linen Cotton. There is in fact, no better place for this look than the bedroom. Designed to look and feel like home, find linen floating its way into your home, to create your very own effortlessly fresh look.
Natural & Neutral
While you may be wearing fewer layers as the weather gets warmer, this Spring it is all about adding more layers into your home. Set the scene of your home from the very base but utilizing neutral tones as your foundation colours. These softer tones allow you to become more creative with your colour accents, letting your home's personality to shine through. Natural and neutral hues such as white, soft blue, blush and peach, create warm and inviting spaces. Keep on trend, building your boho-chic or minimalist look with a neutral base.
Go Green
It is hardly news that green is good. So good in fact, that indoor plants are popping up everywhere. This is true of both the natural and faux varieties. Bring the outside in this Spring and blur the lines of indoors and out. Stunning faux plants with lushes textured leaves, deep full colour and blooming flowers so lifelike you will be doing double-takes are huge hits this season in Adairs. When it comes to faux plants, it is not just about the plant itself, but how you are displaying it. Keep on trend with wooden materials and woven designs. The mentality of go green or go home is upon us, don't miss your chance.
We have heard that Spring is the time for fresh blooms and colour to return. Be inspired by the latest trends and start planning your very own 'Spring Edit' from Adairs. Don't forget to enter our 'Hello Spring, Goodbye Boring!' competition
here
and make sure you are following us on
Facebook.